Course details
【Stone Kiln Steak Standard Course】 8 dishes & 2 hours of drinks available! Raw ham · quiche · smoked cheese etc.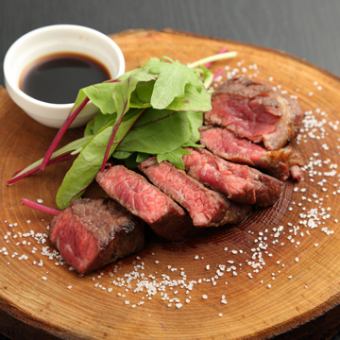 By using a coupon3600 yen
All-you-can-drink available

All-you-can-drink for 2 hours, about 35 types.
Available days for reservation

Monday - Sunday - Public holidays - Holidays
It is also recommended at various banquets such as everyday use, date with lovers, welcoming reception party.It is a course that is reasonably satisfying with our stone boasting stone kiln steak and 8 hours of drinks all-you-can-eat ♪ We are also very welcome to use in large numbers.Rice or Focaccia on the course can be changed to pizza by plus 300 yen (tax excluded) ☆ (after the last order 90 minutes)
Course menu
Our courses are offered in dishes of each dish, one for each dish.
You can enjoy cuisine slowly without worrying about surroundings.
We are preparing stone kiln steak for the main dish so it is a very valuable course.
If you can change pizza at +300 yen, you can use it enough for entertainment etc. of the company etc.It is recommended.
▼ Assorted raw ham
▼ Fresh vegetable fresh salad
▼ quiche of vegetables in the stone kiln
▼ hand made exquisite smoked cheese
▼ Fits well with alcohol ♪ Olive or Caprese
▼ our shop boastful stone kiln steak 120 g
▼ Rice or Focaccia (It is possible to change to pizza with 300 yen plus person.)
▼ Today's dessert (stone kiln freshwater or ice cream)
※ For appetizers please understand that the content may change depending on the season.
※ We do not use additives such as preservatives in handmade materials of our shop.
※ If you have any other demands etc., please do not hesitate to contact us.
All-you-can-drink menu
·beer
· Bottled beer
·wine
· Red or white
·Cocktail
· Cassis Soda, Cassis Orange, Cassis Oolong, Campari Soda, Campari Orange, Shandigafu, Karimocho, Tinto Dellano, Wine Ginger, Splitz, Operator, Cork High, Whiskey Soda, Ginger Whiskey, etc.
·Soft drink
· Orange juice, cola, ginger ale, oolong tea etc.
·coffee
· Caffe latte, espresso coffee, cappuccino etc.
2019/01/08 update