Course details
【Lunch set】 Bagna cauda or cheese fondue all you can eat ♪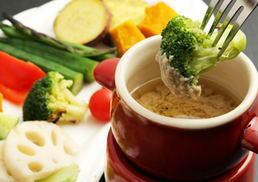 By using a coupon1800 yen
Fri, Saturday, Sunday, congratulation, 2050 yen (excluding tax)
Reservation deadline

Until 11 o'clock on the desired shopping day
Available days for reservation

Monday · Tues · Thurday ~ Sunday / Public Holidays · Holidays
Choose Bagna cauda or cheese fondue and have all you can eat vegetables! Please choose one dish from stone kiln pizza, pasta, stone kiln steak.(With drink bar) More than 10 kinds of vegetables such as broccoli, lotus root, roast sweet potato, okra, pumpkin, paprika, green beans.* 90 minute system
Course menu
1) All you can eat grilled vegetables.
Please choose one of Bagna cauda or cheese fondue.
2) Please choose 1 main dish from the following.
▽ Stoned oven pizza (margherita, bacon vegetables, marinara)
You can choose from +300 yen (tax excluded) (Quattor formaggi, Biancaneve, roasted sweet potato and maple).
▽ Pasta (cream of mentaiko, tomato sauce of mozzarella, peperoncino)
You can choose +300 yen (excluding tax) (shrimp and mentaiko cream, shrimp tomato cream, tomato sauce of seafood).
▽ + 600 yen (tax excluded), "Baked roast steak with Benjamin charcoal"
With rice or Focaccia
3) Soft drink bar is attached.
★ You can also order draft beer coedo takari or heartland with 500 cups (tax excluded).
★ Bagna Cowder sauce and cheese fond du sauce is 300 yen instead of tax.
★ Separately 1,000 yen (tax excluded) is available for all you can drink wine · cocktail.
2018/12/10 update